The National Antenna Test Range at Paardefontein is conveniently situated within a 40 minute drive of the capital city of Pretoria where there is a wide range of accomodation and restaurant options.
Below is a list of accommodation within 5 kilometres of the NATR at Paardefontein.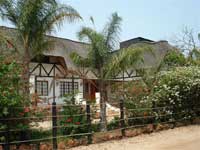 De Palm Hof Guest House is a gracious Dutch/English styled homestead set in beautiful park-like gardens which extend down to the function venue with excellent panoramic views.

The rooms are furnished with all the luxuries to make your stay as comfortable and as memorable as possible.
To view their site click here.