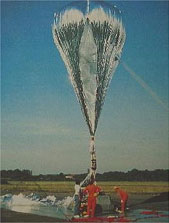 The infrastructure at Paardefontein dates back to 1964, when the site was developed by the French Centre National d'Etudes Spatiales (CNES) as a balloon tracking station. The facility was operated by the French in co-operation with the South African Council for Scientific and Industrial Research (CSIR) until the late 1980's when the balloon tracking was relocated to the CSIR's new Hartebeeshoek satellite tracking station west of Pretoria.
For more information on the French balloon tracking days of the facility, click here.
When balloon tracking at Paardefontein was discontinued, the facility was converted by the CSIR to a radar antenna test range at the request of Armscor. The conversion was done by Dr Dirk Baker, then an employee of the CSIR, who is now considered to be the founder of the NATR. He has gone on to become an internationally recognised expert on antennae and antennae testing. To this day he remains involved in the facility. For a profile on Dr Baker, please click here.
The NATR was first managed and operated by the CSIR under Armscor contract, and later by a private company, also under an Armscor contract. Since 1994 the NATR has been operated and managed by Gerotek Test Facilities, once more under Armscor contract.